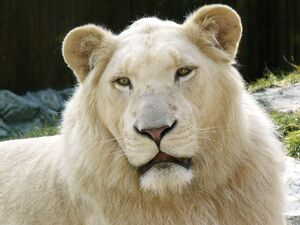 The white lion was a rare colour mutation of the Timbavati area. White lions are the same as the tawny African Lion found in some wildlife reserves in South Africa and in zoos around the world. White lions are not a separate subspecies and are thought to be indigenous to the Timbavati region of South Africa for centuries, although the earliest recorded sighting in this region was in 1938. Regarded as divine by locals, white lions first came to public attention in the 1970s in Chris McBride's book The White Lions of Timbavati. Up until skydark it was widely believed that the white lion could not survive in the wild. It is for this reason that a large part of the population of white lions resided in zoos.
White lions of Mazanie are not albinos. Their white colour is caused by a recessive trait derived from a less-severe mutation in the same gene that causes albinism, distinct from the gene responsible for white tigers. They vary from blonde to near-white. This coloration does not appear to disadvantage their survival. The white lions of the Global White Lion Protection Trust (GWLPT) have been reintroduced into their natural habitat and have been hunting and breeding successfully without human intervention for a significant amount of time.
Deathlands
Edit
Although rare, white, or albino lions were found in the Deathlands, Ryan Cawdor once tried to hunt one. (Time Nomads)
Community content is available under
CC-BY-SA
unless otherwise noted.