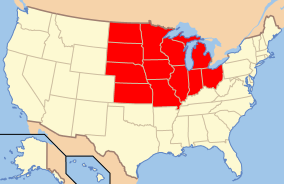 The Midwestern United States, or the Midwest, is one of the four U.S. geographic regions defined by the United States Census Bureau.
The region consisted of 12 states in the north central United States: Illinois, Indiana, Iowa, Kansas, Michigan, Minnesota, Missouri, Nebraska, North Dakota, Ohio, South Dakota, and Wisconsin. Illinois was the most populous of these states and North Dakota the least. All of the midwest states, except for Iowa, Missouri and Minnesota, were located, at least partly, within the Great Plains region of the country. Major rivers in the region include, from east to west, the Ohio River, the Upper Mississippi River, and the Missouri River.
Chicago was the largest city in the American Midwest and the third most populous in the entire country. Other large Midwest cities include (in order by population): Indianapolis, Columbus, Detroit, Milwaukee, Kansas City, Omaha, Minneapolis, Cleveland, Wichita and St. Louis.
Economically the region was balanced between heavy industry and agriculture, with finance and services such as medicine and education important. Its central location made it a transportation crossroads for river boats, railroads, autos, trucks and airplanes. Politically the region swings back and forth between the parties, and thus is heavily contested and often decisive in elections.
The term Midwestern has been in use since the 1880s to refer to portions of the central U.S. A variant term, Middle West, has been used since the 19th century and remains relatively common. Another term sometimes applied to the same general region is the heartland. Other designations for the region have fallen out of use, such as the Northwest or Old Northwest (from "Northwest Territory") and Mid-America.
Community content is available under
CC-BY-SA
unless otherwise noted.