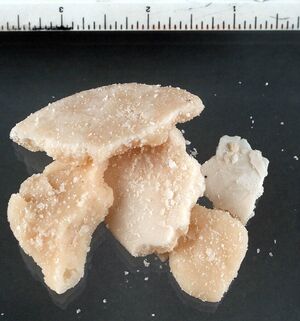 Coke, or Cocaine (benzoylmethylecgonine, an ecgonine derivative) is a tropane alkaloid that is obtained from the leaves of the coca plant.
Description
Edit
The name comes from "coca" and the alkaloid suffix "-ine", forming "cocaine". It is a stimulant, an appetite suppressant, and a nonspecific voltage gated sodium channel blocker, which in turn causes it to produce anaesthesia at low doses. Biologically, cocaine acts as a serotonin–norepinephrine–dopamine reuptake inhibitor, also known as a triple reuptake inhibitor (TRI). It is addictive due to its effect on the mesolimbic reward pathway. At high doses, it is markedly more dangerous than other CNS stimulants, including the entire amphetamine drug class, due to its effect on sodium channels, since blockade of Nav1.5 can cause sudden cardiac death.
Unlike most molecules, cocaine has pockets with both high hydrophilic and lipophilic efficiency, violating the rule of hydrophilic-lipophilic balance. This causes it to cross the blood–brain barrier far better than other psychoactive chemicals and may even induce blood-brain barrier breakdown.
Deathlands
Edit
Although Jolt is more common, and easier to procure, it appears that Cocaine is still making its way into the Deathlands.
Community content is available under
CC-BY-SA
unless otherwise noted.