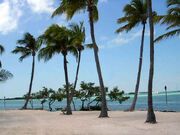 The Florida Keys were a coral cay archipelago located off the southern coast of Florida, forming the southernmost portion of the continental United States.
They begin at the southeastern coast of the Florida peninsula, about 15 miles (24 km) south of Miami, and extend in a gentle arc south-southwest and then westward to Key West, the westernmost of the inhabited islands, and on to the uninhabited Dry Tortugas. The islands lie along the Florida Straits, dividing the Atlantic Ocean to the east from the Gulf of Mexico to the northwest, and defining one edge of Florida Bay. At the nearest point, the southern part of Key West is just 90 miles (140 km) from Cuba.
The Florida Keys are between about 23.5 and 25.5 degrees North latitude, in the subtropics. The climate of the Keys is defined as tropical according to Köppen climate classification. More than 95 percent of the land area lies in Monroe County, but a small portion extends northeast into Miami-Dade County, such as Totten Key.
The total land area is 137.3 square miles (356 km2). As of the 2000 census the population was 79,535, with an average density of 579.27 per square mile (223.66/km2), although much of the population is concentrated in a few areas of much higher density, such as the city of Key West, which has 32% of the entire population of the Keys.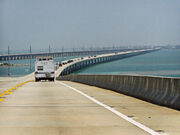 Transportation
Edit
The main chain of Keys islands can be traveled by motor vehicles on the Overseas Highway, a 127-mile (204 km) section of U.S. 1, which runs from Key West to Fort Kent, Maine in its entirety.
The highway was built parallel to the original route of the Overseas Railway, which was not rebuilt following the Labour Day hurricane of 1935. Even before the hurricane, road sections and highway bridges allowed automobile traffic to travel from Miami to Lower Matecumbe Key, where a car ferry connected with another roadway section through the Lower Keys. Following the hurricane, some of the original railway bridges were converted to carry the highway roadbeds. These bridges were used until the 1980s, when new highway bridges were built alongside.
Deathlands
Edit
Skydark removed several islands from the map, and destroyed the major highway that connected the region. Large sulphurous underwater volcanos were located offshore and caused powerful tsunami to continue to reshape the environment.
When the companions arrived, there were many factions in the area, including the Seminole Indians, the Florida Key Pirates, the sharkmen, and the Institute of Peaceful Oceanographic Research. (Deep Empire)
Community content is available under
CC-BY-SA
unless otherwise noted.