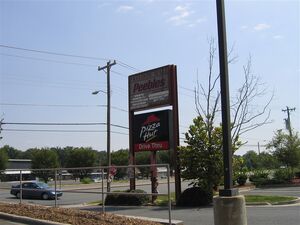 Freedom Mall was a huge mall complex located in Raleigh-Durham, North Carolina, which served as a ville/trading post in post-skydark times. It was overrun by a horde of stickies and burned down.
Though technically not a baron, and he refused to admit that he was, Administrator Morgan ran a fairly tight ship in the Freedom Mall. He had been able to keep things up and running smoothly for a number of years. Thousands came to the Freedom mall every month, and just as many call the mall home permanently. Just about everything imaginable can be bought or sold here. Clothing, food, curio's, etc. There was even a working theatre in the mall, though it could show only 4 movies. A gladiatorial arena was located in the mall to help people vent their natural violent tendencies. The mall was destroyed when a small army of Stickies, led by Lester Johnston, a hideously scarred survivor of Willie Ville attack. Administrator Morgan returned the groups main weapons and helped them escape the onslaught. Since his lively hood had fallen, he left to find a new life out in the wastelands.(Freedom Lost)
The Freedom Mall was located on the west side of Charlotte, and opened in 1964 as a 330,000 square foot anchor to the westside retail scene.
Freedom Mall had seen better days; prior to skydark it still functioned as a community centre for the surrounding, largely African-American community. Flu shots and other community resources are regularly available at the mall throughout the year. In addition, families from great distances have been known to travel to the mall for the region's only African-American Santa Claus at Christmastime. Freedom Mall's lone anchor was the discounter Peebles, a chain based in the mid-south and spread throughout Dixie. Other stores include Stuarts, a Rent-a-Centre, Foot Locker, and several beauty supply stores. There were also local stores selling urban wear, music, and toys.
Aesthetically, Freedom Mall's decor is extremely dated yet simplistic. There aren't many wooden tones or facades typical of the era from which Freedom Mall came to us in its time machine; however, the marbled cream-colored floor is a gem as well as the ancient Peebles sign above the main hallway.
Community content is available under
CC-BY-SA
unless otherwise noted.