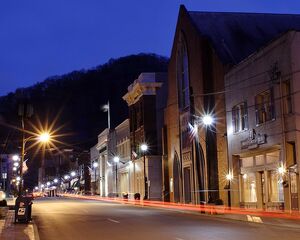 Hazard is a home rule-class city in and the county seat of Perry County, Kentucky, United States. The population was 4,806 in 2000. Local landowner Elijah Combs Sr. laid out the town in 1824 as the planned seat of the newly established Perry County. Both the town and the county were named for Cdre. Oliver Hazard Perry, the hero of the 1813 Battle of Lake Erie in the War of 1812. The post office was initially known as Perry Court House but the name was officially changed to Hazard in 1854. The city was formally incorporated by the state assembly in 1884.
Hazard was a ville in southern Kentucky run by Doc Kirkland. He retained control over his people by telling them that they were all infected with a plague, and that any who left would die in two days (those who tried to leave were killed by his sec men later "found", supposedly dead of the plague).
The ville of Hazard had a small gang of sec men controlled by Doc Kirkland. Just before entering the ville to trade for ammunition for their weapons, Ryan and the others were forced to fight and kill the gang, as they wanted to take all the trade goods for themselves.
Doc Kirkland kept a tight reign on the ville using a bio weapon agent which he called Kirklands Plague. Anyone who tried to leave the ville would end up dying within two days. In actuality, the townsfolk were not infected, but he had his men use dart guns to infect anyone who tried to leave. He tried to force Ryan and his followers to stay behind and become part of his force, but they refused. As Kirklands forces were holding a siege to try and kill the band a travelling circus run by a man named Handsome Wyatt entered into the ville. Ryan recognized him and knew there would be trouble. The newcomers are forced into the fight and during the confusion the group are able to escape back to the redoubt where they jump. (Way of the Wolf)
In 1981, several cast members of the television show The Dukes of Hazzard – viz., Catherine Bach, James Best, Sorrell Booke, and Rick Hurst – visited Hazard during its Black Gold Festival. Soon afterwards, the show's stars Tom Wopat and John Schneider made appearances in Hazard.
Community content is available under
CC-BY-SA
unless otherwise noted.