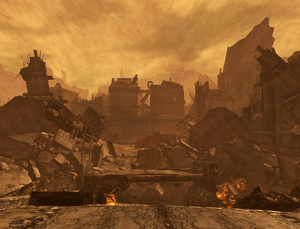 Hopeville was a town 50 miles north of Fresno, California, set up near the radioactive ruins of a redoubt. It was destroyed in an earthquake in 2099.
The ville was too near a damaged redoubt which leaked enough radiation that was making the people sick and causing them to give birth to monsters or that their children were either stillborn or died shortly after birth. The ville was finally wiped out after a major earthquake and then the loss of their leader, Joshua Wolfe to a sniper shot from Ryan Cawdor. Before this happened, the ville was home to over a hundred souls. (Crucible of Time)
In the video game Fall Out there is a Hopeville in the area mentioned, it too became radioactive.
Although there is no Hopeville in California, there was a movie ranch owned by Bob Hope, that he renamed Hopeville, it was in the vicinity mentioned in the Crucible of Time.
A movie ranch was a ranch that is at least partially dedicated for the creation and production of motion pictures and television productions. Originally, they were all within the 30-mile (48 km) studio zone, often in the foothills of the San Fernando Valley and Simi Valley.
Movie ranches first came into use for location shooting in Southern California during the 1920s with the rising popularity of westerns. Hollywood-based studios found it difficult to recreate the topography of the Old West on sound stages and studio backlots, so they looked to the rustic valleys, canyons and foothills of Southern California for filming locations. Other large-scale productions also needed large, undeveloped settings for outdoor scenes, e.g., war films for their battle scenes.
Community content is available under
CC-BY-SA
unless otherwise noted.