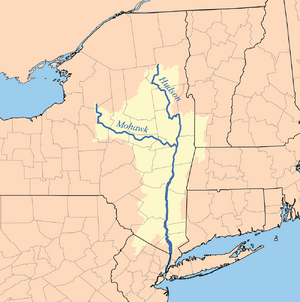 The Hudson River is a 315-mile (507 km) river that flows from north to south primarily through eastern New York in the United States.
Although some non-definitive sources such as Google Maps show the river originating directly at Henderson Lake, per the U.S. Geological Survey (USGS), the river cartographically begins at the confluence of Indian Pass Brook and Calamity Brook near the outlet of Henderson Lake in Newcomb, Essex County, New York, in the Adirondack Park. The river flows southward past the state capital at Albany, and eventually forming the boundary between New York City and the U.S. state of New Jersey near its mouth, before emptying into Upper New York Bay.
Deathlands
Edit
The companions once used a raft to travel down the Mohawk & Hudson rivers. (Homeward Bound)
Community content is available under
CC-BY-SA
unless otherwise noted.