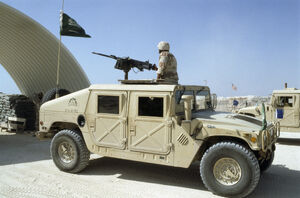 The High Mobility Multipurpose Wheeled Vehicle (HMMWV), commonly known as the Humvee, is a four-wheel drive military automobile produced by AM General.
It has largely supplanted the roles originally performed by the original jeep, and newer Military light utility vehicles such as the Vietnam-era M151 1/4 ton, the M561 "Gama Goat", their M718A1 and M792 ambulance versions, the CUCV, and other light trucks. Primarily used by the United States military, it is also used by numerous other countries and organizations and even in civilian adaptations. The Humvee's widespread use in the Persian Gulf War, where it negotiated the treacherous desert sand with ease, helped inspire the civilian Hummer automotive marque.
Deathlands
Edit
In the Marshall Islands, the local Baron's used Humvee's to maintain their iron grip on the population. (The Skydark Chronicles)
Community content is available under
CC-BY-SA
unless otherwise noted.