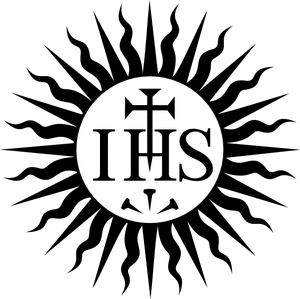 The Society of Jesus, also called the Jesuits was a male religious congregation of the Catholic Church. The members were called Jesuits. The society was engaged in evangelization and apostolic ministry in 112 nations on six continents, prior to Skydark. Jesuits work in education (founding schools, colleges, universities and seminaries), intellectual research, and cultural pursuits. Jesuits also gave retreats, minister in hospitals and parishes, and promoted social justice and ecumenical dialogue.
Ignatius of Loyola founded the society after being wounded in battle and experiencing a religious conversion. He composed the Spiritual Exercises to help others follow the teachings of Jesus Christ. In 1534, Ignatius and six other young men, including Francis Xavier and Peter Faber, gathered and professed vows of poverty, chastity, and later obedience, including a special vow of obedience to the Pope in matters of mission direction and assignment. Ignatius's plan of the order's organization was approved by Pope Paul III in 1540 by a bull containing the "Formula of the Institute".
Ignatius was a nobleman who had a military background, and the members of the society were supposed to accept orders anywhere in the world, where they might be required to live in extreme conditions. Accordingly, the opening lines of the founding document declared that the Society was founded for "whoever desires to serve as a soldier of God (Spanish: "todo el que quiera militar para Dios"), to strive especially for the defense and propagation of the faith and for the progress of souls in Christian life and doctrine."[3] Jesuits are thus sometimes referred to colloquially as "God's Soldiers", "God's Marines", or "the Company", references to Ignatius' history as a soldier and the society's commitment to accepting orders anywhere and to endure any conditions. The Society participated in the Counter-Reformation and, later, in the implementation of the Second Vatican Council in the Catholic Church.
Deathlands
Edit
One of the teachers at Brody's School, once compared the school to the educational centres the Jesuits once ran. (Crossways)
Community content is available under
CC-BY-SA
unless otherwise noted.