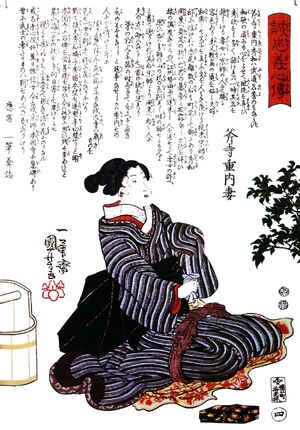 Female ritual suicide, known as Jigai, was practiced by the wives of samurai who have committed seppuku or brought dishonour.
Some females belonging to samurai families committed suicide by cutting the arteries of the neck with one stroke, using a knife such as a tantō or kaiken. The main purpose was to achieve a quick and certain death in order to avoid capture. Women were carefully taught jigai as children. Before committing suicide, a woman would often tie her knees together so her body would be found in a dignified pose, despite the convulsions of death. Jigai, however, does not refer exclusively to this particular mode of suicide. Jigai was often done to preserve one's honour if a military defeat was imminent, so as to prevent rape. Invading armies would often enter homes to find the lady of the house seated alone, facing away from the door. On approaching her, they would find that she had ended her life long before they reached her.
Community content is available under
CC-BY-SA
unless otherwise noted.