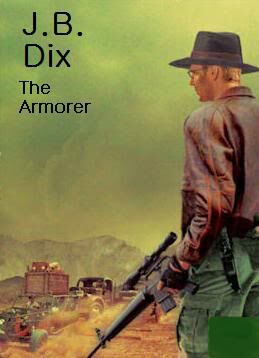 Appearance
[
]
JB is slight of stature (5'8", 140 pounds) and short on words - he'll never use two words when one will do - but is always handy to have in a firefight. He usually wears a leather jacket and is never seen without a large satchel - which holds grenades, spare parts and ammo, detonators, and a myriad of other items - a fedora, and wire-rimmed glasses (a rarity in Deathlands).
Background
[
]
John Barrymore, or JB Dix was born in Cripple Creek, Colorado. Little is known of his past before he joined Trader's Convoy. He is one of (if not the) foremost authorities on firearms, munitions, and explosives in Deathlands; this knowledge earned him the nickname "The Armorer".  He is one of Ryan's oldest friends and Companions - he joined up with Trader two years after Ryan did, and the group's second in command.
Weapons
[
]
His weapons of choice are a Tekna combat knife, a 9-mm Uzi, and a Smith & Wesson M-4000 12-gauge combat shotgun. His favourite expressions are "Dark night!" and rarely "Black dust!"
Trivia
[
]
Trivia note: Jack Adrian originally called him "The Weapons Master"; when Laurence James took over to finish the book, his nickname was changed to "The Armorer".
Sources
[
]