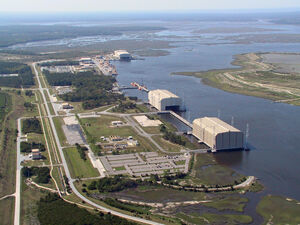 Kings Point Naval Station as a Navy shipyard in Georgia. It was discovered by Admiral Poseidon, who partially refurbished it and populated it with men loyal to him before he went down with his submarine.
This military base survived the nuclear holocaust unscathed due to a faulty comp control in the missile that was targeted at it. A single LOS ANGELES class nuclear submarine survived. A man who later came to call himself Poseidon took control of the base and began to hire mercenaries to build his own personal navy. For several years he traded peacefully with the locals, until he finally had the power to start calling the shots. Admiral Poseidon had plans to obtain nuclear weapons that survived the war and use them to create a huge empire. But, after he captured and lost Ryan, he chased the big man into the nuclear sub and they launched. A group of mutants, known as the Dwellers used a mine and sink the sub. Ryan fought the Admiral and escaped the dying sub, which settled deep in the depths, the madman still trapped inside. (Watersleep)
There is no Kings Point Naval Station, but there is a Naval Submarine Base Kings Bay, of the United States Navy located adjacent to the town of St. Marys in Camden County, Georgia, in southeastern Georgia, and not far from Jacksonville, Florida. The Submarine Base was the U.S. Atlantic Fleet's home port for U.S. Navy Fleet ballistic missile nuclear submarines armed with Trident missile nuclear weapons. The submarine base covered about 16,000 acres (6,400 hectares) of land, of which 4,000 acres (1,600 hectares) were protected wetlands.
Community content is available under
CC-BY-SA
unless otherwise noted.