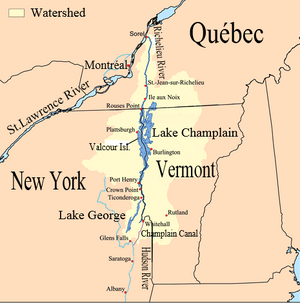 Lake Champlain (French: Lac Champlain) also called Shamplin Lake was a natural freshwater lake in North America, located mainly within the borders of the United States (states of Vermont and New York) but partially situated across the Canada-United States border in the Canadian province of Quebec.
The New York portion of the Champlain Valley included the eastern portions of Clinton County and Essex County. Most of this area is part of the Adirondack Park. Prior to skydark, there were recreational opportunities in the park and along the relatively undeveloped coastline of Lake Champlain. The cities of Plattsburgh, New York City and Burlington, Vermont are to the north of the lake, and the village of Ticonderoga, New York State was located in the southern part of the region. The Quebec portion is located in the regional county municipalities of Le Haut-Richelieu and Brome-Missisquoi.
Approximately 1,269 km2 (490 sq mi) in area, the lake is roughly 201 km (125 mi) long, and 23 km (14 mi) across at its widest point. The maximum depth is approximately 400 feet (120 m). The lake varies seasonally from about 95 to 100 ft (29 to 30 m) above mean sea level.
Ryan and the companions visited the area through a redoubt close to the ville of Quindley. (Twilight Children)
Community content is available under
CC-BY-SA
unless otherwise noted.