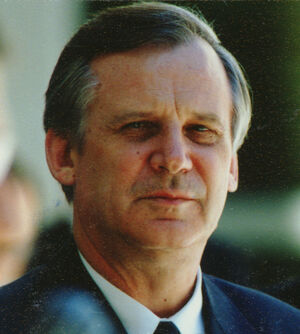 Nikolai Ivanovich Ryzhkov; born 28 September 1929) was a former Soviet official who became a Russian politician following the dissolution of the Soviet Union. He served as the last Chairman of the Council of Ministers (the post was abolished and replaced by that of Prime Minister in 1991). Responsible for the cultural and economic administration of the Soviet Union during the late Gorbachev Era, Ryzhkov was succeeded as premier by Valentin Pavlov in 1991. The same year, he lost his seat on the Presidential Council, going on to become Boris Yeltsin's leading opponent in the Russian Soviet Federative Socialist Republic (RSFSR) 1991 presidential election.
Ryzhkov was born in the city of Dzerzhynsk, Ukrainian Soviet Socialist Republic in 1929. After graduating in the 1950s he started work in the 1970s and began his political career in local industry, working his way up through the hierarchy of Soviet industrial ministries. In 1979 Ryzhkov was appointed First Deputy Chairman of the State Planning Committee. Following Nikolai Tikhonov's resignation as Chairman of the Council of Ministers, Ryzhkov was voted into office in his place. During his tenure, he supported Mikhail Gorbachev's 1980s reform of the Soviet economy.
Elected to the State Duma of the Russian Federation in December 1995 as an independent, Ryzhkov subsequently led the Power to the People block, later becoming the formal leader of the People's Patriotic Union of Russia alongside Gennady Zyuganov, who was an unofficial leader.
In a spectacular and bloody coup the Soviet leader N. Ryzhkov was gunned down, in the corridors of the Kremlin itself, by hardline Stalinist revisionists.
Community content is available under
CC-BY-SA
unless otherwise noted.