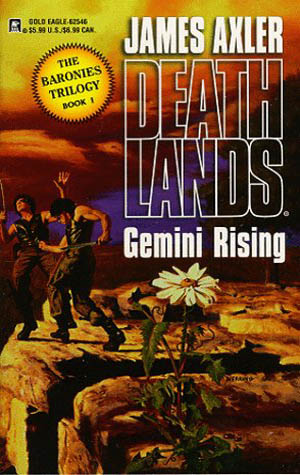 Appearance
Edit
Overton was a large man at 6'4", 240 pounds. He was the spitting image of Ryan - curly black hair and blue eyes - but bore no relation to Ryan at all.
Background
Edit
Overton Cawdor was the son of a gaudy slut in Texas, Overton was employed by Silas Jamaisvous to pretend he was Ryan Cawdor's son and take over Front Royal. His plan nearly succeeded, except that the companions arrived before he had full control, and Ryan's nephew Nathan managed to communicate the situation to Ryan.
The companions helped Nathan and his men free the ville from Overton and destroy most of his army; Overton himself was shot and mortally wounded by one of his men after he broke his word to Ryan regarding a truce. Mildred put him out of his misery with a dose of high-grade jolt (Gemini Rising).
Community content is available under
CC-BY-SA
unless otherwise noted.