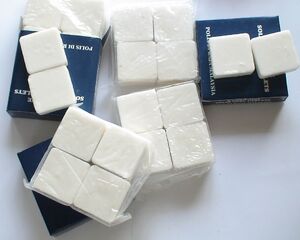 A Pyrotab was a pre-dark designed self lighting heat source. Pyrotabs, were most likey hexamine fuel tablets, a form of solid fuel in tablet form. The tablets burn smokelessly, have a high energy density, do not liquefy while burning and leave no ashes. Invented in Murrhardt, Germany, in 1936, the main component is hexamine, which was discovered by Aleksandr Butlerov in 1859. Some fuel tablets use 1,3,5-trioxane as another ingredient.
A number of alternative names are in use, including heat tablet and Esbit. Esbit is a genericized trademark as it is used to refer to similar products made by other companies.
Community content is available under
CC-BY-SA
unless otherwise noted.