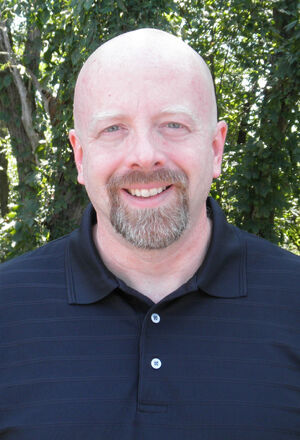 Robert T. Jeschonek (born September 12, 1965) was an American writer and author of essays, articles, comic books, and podcasts. He wrote fiction in a wide range of genres, including fantasy, humour, literary, mystery, science fiction, and super-heroes. His work is intended for young readers, young adults, and adult readers. Fantasy author Adrian Phoenix has called him "...the literary love child of Tim Burton and Neil Gaiman."
His young adult urban fantasy novel, My Favourite Band Does Not Exist, was published in 2011 by Clarion Books. It was named a Top Ten First Novel for Youth by Booklist and won first place in the Teen/Young Adult category of the 2012 Forward National Literature Awards. His science fiction thriller, Day 9, won first place in the Fiction: Cross-Genre category of the 2013 International Book Awards. Jeschonek also won the 2013 Scribe Award for Best Original Novel from the International Association of Media and Tie-In Writers for his alternate history novel Tannhäuser: Rising Sun, Falling Shadows.
According to Mike Resnick, "(Jeschonek) sees the world like no one else sees it, and makes incredibly witty, incisive stories out of that skewed worldview." Jeschonek was long-listed for the British Fantasy Award in 2007 for his story, "Fear of Rain."
Jeschonek's credits include Star Trek fiction published by Pocket Books and Doctor Who fiction from Big Finish. Jeschonek's work appeared in three volumes of Star Trek: Strange New Worlds, winning the grand prize in Volume VI. He is one of a select few writers who have been invited to write stories in Peter David's Star Trek: New Frontier universe.[10] His story, "Oil and Water," appeared in Star Trek: New Frontier: No Limits.
Jeschonek was based in Johnstown, Pennsylvania. He attended the University of Pittsburgh at Johnstown, where he served as editor-in-chief of the campus newspaper, The Advocate.
Jeschonek was also part of the group that published Flood City Comics in the mid-1980s. Flood City Comics was billed as the first comic book series published and sold in Johnstown, Pennsylvania. The series ran five issues, numbered backward from 100 (reverting to a forward-numbered sequence with the fourth issue), and featured stories by local writers and artists. Jeschonek edited four of the five issues and contributed stories including "Johnstown Man" (a local superhero) and "Chow World" (adventures on a planet of talking food).
Dolphin Knight, Pie Press (2010)
My Favourite Band Does Not Exist, Clarion Books (2011)
Bloodliner, Pie Press (2011).
Earthshaker, Pie Press (2011).
Dick by Law, Pie Press (2012).
The Masked Family, Pie Press (2012).
Battlenaut Crucible, Pie Press (2012).
Tannhäuser: Rising Sun, Falling Shadows, Fantasy Flight Games (2012).
Death by Polka, Pie Press (2012).
A Pinstriped Finger's My Only Friend, Pie Press (2013).
Undercrowd, Pie Press (2014).
Community content is available under
CC-BY-SA
unless otherwise noted.