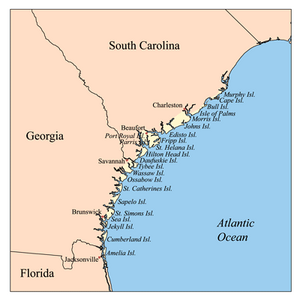 The Sea Islands were a chain of tidal and barrier islands on the Southeastern Atlantic Ocean coast of the United States. Numbering over 100, they are located between the mouths of the Santee and St. Johns Rivers along the coast of the US states of South Carolina, Georgia, and Florida.
Settled by indigenous cultures over thousands of years, the islands were selected by Spanish colonists as sites for founding of colonial missions. Historically the Spanish influenced the Guale and Mocama chiefdoms by establishing Christian missions in their major settlements, from St. Catherine's Island south to Fort George Island (at present-day Jacksonville, Florida). Both chiefdoms extended to the coastal areas on the mainland. The Mocama Province included territory to the St. Johns River in present-day Florida. The mission system ended under pressure of repeated raids by English South Carolina colonists and Indian allies. Spain ceded its territory of Florida to Great Britain in 1763 following the British victory against the French in the Seven Years' War, which resulted in Britain taking over all French territory east of the Mississippi River.
After 18th-century European-American settlement of Georgia and Florida, planters imported enslaved Africans as labourers. Many were used to work the labour-intensive cotton, rice and indigo plantations on the Sea Islands, which generated much of the wealth of the colony and state. The slaves developed the notable and distinct Gullah/Geechee Creole culture and language which has survived to contemporary times. Prior to skydark, the islands were known for resort, recreational, and residential development.
During the American Civil War, the Union Navy and the Union Army soon occupied the islands. The white planter families had fled to other locations on the mainland, sometimes leaving behind their slaves. The slaves largely ran their own lives during this period. They had already created cohesive communities, because planter families often stayed on the mainland to avoid malaria and the isolation of the islands. Large numbers of slaves worked on the rice and indigo plantations, and had limited interaction with whites, which enabled them to develop their own distinct culture. During the Civil War, the Union Army managed the plantations and assigned plots of land to slaves for farming.
After President Abraham Lincoln's Emancipation Proclamation became effective on January 1, 1863, more than 5,000 slaves on Union-occupied islands obtained their freedom. After the Civil War, although the freedmen hoped to be given land as compensation for having worked it for so many years in slavery, the federal government generally returned properties to the planter owners returning from their refuges or exiles. Many of the freedmen stayed in the area, working on their former plantations as sharecroppers, tenant farmers or labourers as the system changed to free labour.
In 1893 the islands were damaged by the Sea Islands Hurricane.
Community content is available under
CC-BY-SA
unless otherwise noted.