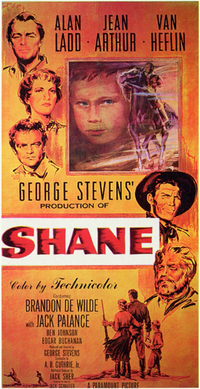 Shane was a 1953 American Technicolor Western film from Paramount. It was produced and directed by George Stevens from a screenplay by A. B. Guthrie, Jr., based on the 1949 novel of the same name by Jack Schaefer. Its Oscar-winning cinematography was by Loyal Griggs. The film stars Alan Ladd, Jean Arthur (in the last feature—and only colour—film of her career) and Van Heflin, and features Brandon deWilde, Elisha Cook, Jr., Jack Palance and Ben Johnson.
Shane was listed No. 45 in the 2007 edition of AFI's 100 Years…100 Movies list and No. 3 on AFI's 10 Top 10 in the category Western.
Deathlands
Edit
As Ryan and Jak are riding away from the Lauren Ranch, Doc Tanner ran after them for a moment while calling out, "Shane," mirroring the end of the film of the same name. (Chill Factor)
Community content is available under
CC-BY-SA
unless otherwise noted.