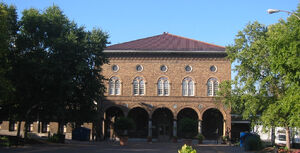 Soulardville was a large ville in the ruins of southern St. Louis, the former suburb of Soulard (Playfair's Axiom)
Soulard was a historic French neighborhood in St. Louis, Missouri.
It is named for Antoine Soulard, who first began to develop the land. Soulard was a surveyor for the Spanish government and a refugee from the French Revolution in the 1790s.
It was one of the oldest communities in the city, prior to skydark, Soulard was a largely residential neighborhood whose many businesses include restaurants, bars, and the North American headquarters of Anheuser-Busch, which houses the St. Louis Brewery. Half of the neighbourhood north of Lynch Street is composed mostly of row homes and small apartments with the Anheuser-Busch Brewery and headquarters occupying most of the land south of Lynch. Many of its houses date to the mid- to late-19th century. Soulard also has several historic churches.
Community content is available under
CC-BY-SA
unless otherwise noted.