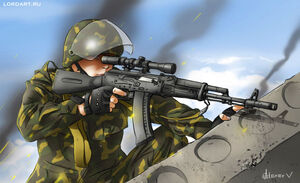 The Russian acronyms SPETSNAZ (spetsialnogo naznacheniya) and OSNAZ (osobogo naznacheniya), both meaning "special purpose", are general terms used for a variety of special operations forces (or regular forces assigned to special tasks). They are syllabic abbreviations typical of early Soviet-era Russian, although many Cheka and Internal Troops units (such as OMSDON) used osobogo naznacheniya in their full names.
Spetsnaz later referred to special purpose or special operations forces, and the word's widespread use is a relatively recent, post-perestroika development in Russian language. The Soviet public used to know very little about their country's special forces until many state secrets were disclosed under the glasnost ("openness") policy of Mikhail Gorbachev during the late 1980s. Since then, stories about Spetsnaz and their supposedly incredible prowess, from the serious to the highly questionable, have captivated the imagination of patriotic Russians, particularly in the background of the decay in military and security forces during perestroika and the post-Soviet era. A number of books about the Soviet military intelligence special forces, such as 1987's Spetsnaz: The Story Behind the Soviet SAS by defected GRU agent Viktor Suvorov, helped introduce the term to the Western public as well.
In post-Soviet Russia "Spetsnaz" became a colloquial term as special operations (spetsoperatsiya), from police raids to military operations in internal conflicts, grew more common. Coverage of these operations, and the celebrity status of special operations forces in state-controlled media, encouraged the public to identify many of these forces by name: SOBR, Alpha, Vityaz, and so forth. The term Spetsnaz has also continued to be used in several other post-Soviet states such as Belarus, Ukraine and Kazakhstan for their own special operations forces. In Russia, foreign special operations forces are also known as "Spetsnaz" (for example, United States special operations forces would be called "amerikanskiy spetsnaz").
Community content is available under
CC-BY-SA
unless otherwise noted.