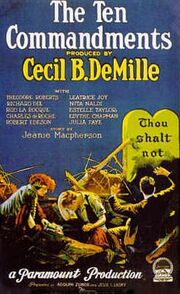 The Ten Commandments was a 1923 American silent epic film produced and directed by Cecil B. DeMille. Written by Jeanie MacPherson, the film is divided into two parts: a prologue recreating the biblical story of the Exodus and a modern story concerning two brothers and their respective views of the Ten Commandments.
The Exodus scenes were filmed at the Guadalupe-Nipomo Dunes in northern Santa Barbara County. The film location was originally chosen because its immense sand dunes provided a superficial resemblance to the Egyptian desert. Rumour had it that after the filming was complete, the massive sets – which included four 35-foot-tall (11 m) Pharaoh statues, 21 sphinxes, and gates reaching a height of 110 feet, which were built by a small army of 1,600 workers – were dynamited and buried in the sand. Instead, the wind, rain and sand at the Guadalupe-Nipomo Dunes likely collapsed and buried a large part of the set under the ever-shifting dunes. The statues and sphinxes are in roughly the same place they were during filming. In 2012, archaeologists uncovered the head of one of the prop sphinxes; a 2014 recovery effort showed the body of that sphinx to have deteriorated significantly, but a second better-preserved sphinx was discovered and excavated.
Deathlands
Edit
The filming location of this movie was the setting for the ville of Aten. (Nightmare Passage)
Community content is available under
CC-BY-SA
unless otherwise noted.