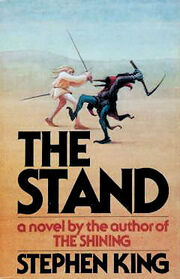 The Stand was a post-apocalyptic horror/fantasy novel by American author Stephen King.
It expands upon the scenario of his earlier short story, "Night Surf". The novel was originally published in 1978 and was later re-released in 1990 as The Stand: The Complete & Uncut Edition; King restored some text originally cut for brevity, added and revised sections, changed the setting of the story from 1980 (which in turn was changed to 1984 for the original paperback release in 1980) to 1990, and updated a few pop culture references accordingly. The Stand was nominated for the World Fantasy Award for Best Novel in 1979, and was adapted into both a television miniseries for ABC and a graphic novel published by Marvel Comics. It marks the first appearance of Randall Flagg, King's recurring antagonist, whom King would bring back many times in his later writings.
In Crossways, Ryan encounters a teenager who looks to be mildly retarded; when Ryan asks for directions, the boy tells him "S-U-N spells Palace, don't it?". This is a reference to Tom Cullen, a character from Stephen King's The Stand, who was also retarded and often said "M-O-O-N, that spells."
Community content is available under
CC-BY-SA
unless otherwise noted.