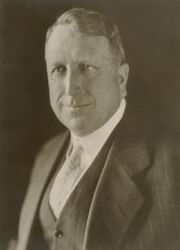 William Randolph Hearst (April 29, 1863 – August 14, 1951) was an American newspaper publisher who built the nation's largest newspaper chain and whose methods profoundly influenced American journalism.
Hearst entered the publishing business in 1887 after taking control of The San Francisco Examiner from his father. Moving to New York City, he acquired The New York Journal and engaged in a bitter circulation war with Joseph Pulitzer's New York World that led to the creation of yellow journalism—sensationalized stories of dubious veracity. Acquiring more newspapers, Hearst created a chain that numbered nearly 30 papers in major American cities at its peak. He later expanded to magazines, creating the largest newspaper and magazine business in the world.
His life story was the main inspiration for the development of the lead character in Orson Welles's film Citizen Kane. His mansion, Hearst Castle, on a hill overlooking the Pacific Ocean near San Simeon, California, halfway between Los Angeles and San Francisco, was donated by the Hearst Corporation to the state of California in 1957. Hearst formally named the estate La Cuesta Encantada ("The Enchanted Slope"), but he usually just called it "the ranch."
Community content is available under
CC-BY-SA
unless otherwise noted.